Vid flera tillfällen har jag träffat städerskor som varit hängiva, sociala, disciplinerade och dedikerade till sitt jobb men som samtidigt velat nå nya utmaningar. Som väldigt många andra. Omgivningen har dock ofta svikit dessa tillgångar och bortsett från deras inneboende potential.
Jag minns gången när jag utsåg städerskan, på ett börsnoterat företag jag arbetade för, till chef för innesälj. Innesäljsavdelningen var desillusionerad och missnöjd stämning rådde, det brast i ledarskapat kan man säga. Under mitt "städuppdrag" noterade jag den finska städerskans disciplin, noggrannhet och hängivenhet samt framförallt känslan för service och vårt varumärke. Hon var exakt den medicin som behövdes på avdelningen för innesälj. Men hur skulle jag göra? Knepigt. Jag bestämde mig efter en natts sömn att bara utse henne; rätt av och utan krusiduller. Sagt och gjort, hon tillsattes. Vi gav henne bra internutbildning och en av mina medarebetare i ledningsgruppen gav personlig coachning en längre period.
Hur det gick? Mycket bra! Färre personer på innesälj kunde ta fler ordar och med tiden gick även servicegraden upp.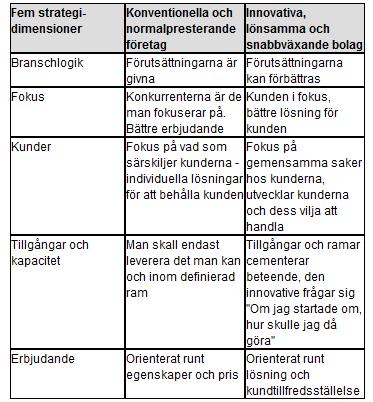 Källa: Harvard Busisiness Review, Value Innovation: The Strategic Logic of High Growth, W. Chan Kim & Renée Mauborgne (94)
Vågar du utmana och tillsätta på attityd och potential?  Som lite inspiration bifogar jag en sammanställningen från Harvard Business Review om vad som skiljer mediokra företag från snabbväxande och lönsamma företag. Fundera sedan igen på städerskan och klicja nedan. Trycy på view för att se vad alla andra svarat.