PRESS RELEASE
13th of November 2015
Washington DC & Tysons, VA
Stockholm, Sweden
Swedish Firm with "Game-Changing" Innovation Technology Opens US Office
Demand drives Swedish Innovation Technology company, Innovation360 Group, to open first US Office in Washington DC. CEO Magnus Penker announced the opening of the Tysons Corner, VA office at executive meetings in Washington DC during a recent visit. The demand for measurable improvement in Innovation Acceleration and Achievement drives the decision to establish US Operations. The immediate goal is to functionally replicate the company's HQ office in Stockholm as rapidly as possible.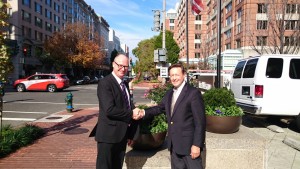 Echoing recent pronouncements from global leaders in business and government, Mr. Penker stated, "The future belongs to the Innovators." He went on to say that the key to sustained innovation is the ability to quickly and accurately capture ideas – the intellectual assets of the organization – and then systematically execute on those which drive corporate value.
Hiring for the office, located in the Uber-Office facility in Tysons, has begun with the announcement that Rick Pfautz, former Air Force Officer and Business Development Executive, will lead the expansion. "Rick's experience in US Government and Industry, complemented by his Project Management (PMP) background and success as a National Sales Leader for a Fortune 500, will help drive the growth we anticipate." said Jens Nilsson, International Director, from Stockholm. Several highly-qualified US-based consultants with diverse backgrounds are in conversation with Innovation360Group executives already.
More information on Innovation Technology is available at www.innovation360group.com
Contact details
CEO & Founder, magnus.penker@innovation360group.com , +46 708 200 244
US Commercial Director, rick.pfautz@Innovation360Group.com, +1 800-871-1477
About Innovation 360 Group
Using research based innovation capability measurements, a huge global innovation database, evidence-based analysis and recommendations and concrete execution plans suddenly sustained innovation becomes tangible and achievable. The results of increased innovation capabilities are improved performance, profit and growth. Clients measurably improve profit and growth through improved strategy, business modelling, ideation, prototyping, commercialization and transformation of vital organizational assets. We believe that key to success is sustained innovation and the capability to rapidly execute and adopt with excellence.
Our mission is to support and strengthen the global innovation capability needed to address humanity's grand challenges: Food, Energy, Water, Security, Global Health, Education, Environment, Poverty and Space. Our aim in line with the mission is therefore to help 1,000,000+ entrepreneurs, companies, executives and scientists all over the world to become world class innovators through providing our unique innovation measurement tool and database, InnoSurvey™, as a free-to-all digital on-line service complimented with an enterprise tool and consultancy services in order to solve the grand challenges needed to be solved.